The Wau Bulldog Road, Papua New Guinea - 2001
Information, History and track notes (Maps added January 2006)

---

For anyone interested in diverse environments, superb wildlife, history and grass-roots PNG, the walk along the Bulldog Road (track) from Wau to the spectacular Lakekamu basin is superb, and not that difficult (since it's downhill most of the way). Walking the Bulldog Track is a chance to see a whole transect of PNG cultures and environments from chilly highlands, to the coastal swamps and rivers. The walk takes you through the heart of the 1920's gold-rush area at Edie Creek along a gravity defying road built during World-WarII to relieve Wau from the Japanese siege. The highest point of the track is in primeaval moss and rhododendron forests at 3000m with amazing views out to the Papuan coast and descends through the Eloa gorge, lined with hoop-pine forests to the Lakekamu Basin, where nearly all the major species of fauna in PNG can be found in abundance. The last part of the trip is a raft or canoe trip down the Tiveri and Lakekamu rivers to the Gulf. ICAD have set up a series of guesthouses and a research station in the basin, run by local villagers. At the moment this area isn't promoted well enough for its eco-tourism potential, which is as yet untapped.

---
Track notes - (Information current as of June 2001)

Duration

The main section of the walk can be completed in as little as 4 days if transport is arranged up to Edie Creek and a return is made by air from Tekadu or Kakoro back to Wau. The walk is better done from Wau to the Gulf, as there are fewer climbs and rafting will be possible down the river following the current..

Access to the Bulldog Track

North Coast Aviation (NCA) fly Wau to/from Port Moresby on Wednesdays and Fridays for K263, depending upon demand. Air Nuigini fly a few times daily to Lae for K222, and a PMV bus can be caught in Lae to go to Wau for K8. The journey takes about 4 1/2 hours. NCA fly about twice a week between Kakoro (near the track end) and Wau for K74, and less regularly to Tekadu. Milne Bay Airlines (MBA) fly from Kerema twice daily to Port Moresby for K243.

Guides

Using these track notes and a map, a guide isn't vitally necessary up as far as Tekadu, and guides may be hard to find in Wau. The Wau Ecology Institute or Morobe Gold Liaison office in Wau should be contacted if a guide is needed. There is only one main track, which will be obvious. The 1943 bench cutting of the Bulldog Road is fairly clear for most of the route, apart from a few (noted here) shortcuts. A guide is recommended from Tekadu to Kakoro or Niukeva, as the track is less used and is fairly indistinct.

Day 1:

Walk from Wau (alt.1200m or 3900ft) to Edie Creek (alt. 2200m or 7200ft). Distance 14km This will take 4-5 hours depending upon fitness. From the Wau Ecology Institute the road climbs a steady gradient around Mount Kaindi up past Ribroaster prospect where a massive landslide is visible opposite Koranga Creek. The road then deviates from the 1943 road by zig-zagging steeply over a spur of Mount Kaindi before descending down to orange hotch-potch of workings at Edie Creek Mine. Ask at the mine office for permission to stop at the mine's transit house. There is a trade-store and small market here. The mine can arrange a gold-panning excursion if interested. A PMV can be caught up to Edie Creek taking 1 hour and costs K10. It is also possible to pay K30 to the driver to go all the way to Hidden Valley Exploration camp (an additional 40 minutes). It may also be possible to obtain a lift direct to Hidden Valley with an exploration vehicle from the Morobe Gold Office above the Wau Airstrip. This shouldn't be counted on however, and prior arrangements should be made if possible. Wau Ecology Institute (WEI) should be contacted for additional information. The climate is much cooler at Edie Creek and comes as a surprise. Misty conditions and heavy rain prevail on most afternoons.

Day 2: Walk from Edie Creek (alt. 2200m, 7200ft) to Hidden Valley (alt. 2600m, 8500ft)

A gentle walk of 4 hours (14km) along the ridge of the Bulolo-Watut Divide will take you to the Hidden Valley Exploration camp, past good stands of mountain pandanus, and montane rainforest. There is a shelter at the entrance to the camp where it is possible to camp the night, however since there are very few visitors to the area it may be possible to stay at the Exploration Camp a further 30 minutes walk off the Bulldog Track, following the main access road around the prospect. The view from Hidden Valley camp down the Upper Watut valley is worth the walk. Most mornings views are clear across to the Eastern Highlands and the Sarawaged and Finisterre ranges of the Huon Pensinsula. Spectacular even.

Day 3: Hidden Valley to Fox Saddle

From Hidden Valley, the old Bulldog Road has recently been re-opened as far as Johnson Saddle, also known as Salemba camp. The views from here in the morning are usually clear and spectacular right down Bulolo Valley and across to the Kuper Range. Sections of the old 1943 road timbers and corduroy are well preserved here due to the peaty conditions. This area was badly affected by the drought in 1997 and extensive areas are covered with dead trees and moss, but wild strawberries abound. A bush-fire and cyclone early in 1998 added to the destruction. After rounding Upper Bulolo Spur the track climbs a further 100m to the highest elevation of the track at 3000m (9800ft). The moss forest becomes healthier the further one continues to Ecclestone Saddle. There are many groves of Rhododendrons and various orchids. The Black Long-tail Bird of Paradise is commonly seen here. In the afternoon mist and rain are common, giving an eerie almost surreal atmosphere to the place. Ecclestone Saddle lies on the main Ekuti (PNG) divide. Occasionally, usually in the early morning if conditions are clear a spectacular view down the Eloa Gorge and across Gulf Province to the coast of the Gulf of Papua can be seen. The track now descends gradually across the almost sheer headwalls of the Eloa Gorge past the small but pretty Eloa falls and a number of temporary bush shelters down to the clear Fox Saddle. This area was formerly a prospecting area and there is much Kunai Grass. After Fox Saddle, the montane forest is very rich in Quandongs (native plums) and cassowaries (muruk). Expect persistent cool and heavy rain in this area.

Day 4: Walk to Anandea village

The old Buldog Road alignment continues for another 14km and has not been used as a walking track for 50 years and would be very slow and tough going (i.e. another two days difficult walk). The main track now takes a short-cut down a jungle covered spur 800m (2,600ft) almost vertically down to Yanina Village and takes about 1.5-2 (2.5-3 if climbing) hours. A log bridge crosses the Eloa River to Yanina Village. Yanina village is a traditional kukukuku village and most people still lead a traditional lifestyle here. Grass skirts are common, as well as bark capes. From here the track rejoins the old Bulldog Road and uses the original 1943 bench cutting. There is beautiful rest spot at the major bend of the Eloa gorge on a granite boulder wedged into a steep section of the gorge, if one minds the array of betel-nut spittle. Shortly after this are two tricky slippery log bridges, across the gorge. The track down to Anandea is very pleasant, with views up to the hoop pine crested ridges. There is a cane and bamboo bridge which crosses the Eloa river once more just before Anandea village is reached. Accommodation at Anandea is in the haus-win where an old lady will light a fire and provide a bark mattress. A couple of tins of meat or fish and rice would be appreciated ! It may be possible to walk to Tekadu in one day, but this would leave too little time to enjoy the walk.

Day 5: Anandea to Tekadu

The track leaves Anandea and climbs over a steep section of the gorge, following the gentle grade of the 1943 road bench. The Eloa valley becomes more restricted and dense jungle prevails along this section of the track. There is a precarious high log bridge strengthened by a steel cable in this section. Many parts of the old bench have been washed out past here, but the track is still easy to follow, if a bit muddy in places. The valley begins to open out and the track passes through pleasant gardens on the alluvial flats past Tekadu No. 2, crossing a tributary of the Eloa via a small bamboo bridge. Further on an intriguing bamboo bridge which ascends over the Kodama River onto a large granite boulder heralds the approach to Tekadu village. Continue past the main village for another 2 km to the settlement of Yenawe and the location of the Tekadu Airstrip, aid post, school and Uyana guest-house. There is a wet creek crossing halfway between Tekadu and Yenawe which has a lovely, deep and clear rockpool, ideal for a dip and a wash.

Day 6; Tekadu to Kakoro or Niukeva

The track is cleared and well tended right into Gulf Province. There are a number of WWII relics along the way including sections of bridge and a dozer at GRID. The track continues onto the alluvial plain covered in jungle. There are many Galip trees with their tough purple nuts which make a nice feast if one takes the effort of cracking the husk. The track eventually comes to a confluence of the East and West branches of the Eloa River (or Avi Avi).

From here the main track goes on to Kakoro (15km 6 hours), past the Ivimka Research Station (an ICAD project) which is a km (20 minutes) from the track junction on a small rise above the AviAvi river. Accomodation is possible here, and the views are excellent. The track to Niukeva (11 km 4.5 hours) is reasonably ill-defined to definitely warrant a guide (K20 from Tekadu to Niukeva). Both tracks hug the toe of the dividing range and the variety and abundance of flora and fauna is superb. The raggiana bird of paradise and number of spectacular bower-birds are common along both tracks, parrots. Also various species of bandicoot

The Niukeva track roughly follows the shore of the west (main) branch of the Eloa for 4 km until a fishing camp is encountered. The river is crossed just a bit further on behind a large fishing weir. In high water a raft will have to be made to cross the river. The muddy track then follows the boundary between the alluvial flats and the hills crossing several creeks through thick jungle until a small hamlet is reached after two hours. Niukeva village is a further hour's walk, set on a high bank of the Tiveri River.

As yet there isn't yet a guest house in Niukeva, but Moss Jonah, the village chief who speaks good English is happy to host walkers.

Day 7: Niukeva to Okavai

Local canoes can ferry walkers across the Tiveri River. A muddy walking trail takes about 5 hours to get to Okavai village (with one or two more canoe crossings). A better option is to make a bush-raft with the assistance of the Niukeva villagers (a couple of hours to build) and drift down the Tiveri River to near Okavai village. This will take 4-5 hours depending upon currents and loads. Guria birds (Victoria Crested Pigeon) , sea-eagles and hornbills (kokomo) are very common in this section, easily identified by their calls. A shortcut track leads walkers to a small gardening hamlet on the shore of the Kunimaipa River opposite Okavai.

Day 8: Okavai to Lakekamu Bridge

Irregular (3-4 per month) PMV boats operate down to Lakekamu Bridge. They often travel by night taking about 8 hours to meet the PMV runs (5 hours if by day) and cost K70 per passenger. A whole boat can be chartered for K600 - K700 if you are not prepared to wait. An interesting, but slow alternative is to make a bush raft (as already described) and follow the current downstream. This could take 2-3 days depending upon how fast the current is and if paddles are used to assist. Many sections of the Gulf river systems have hidden snags of dead trees and sand bars. These pose a sinister hazard to rafts and boats and great care should be taken.

Day 9: Lakekamu Bridge to Kerema or Port Moresby.

There are many PMV trucks which ply the Trans-Island Highway to Kerema and Port Moresby which stop at the Lakekamu Bridge. A jouney to Kerema will take about 1-1.5 hours and costs about K7. Daily flights from Kerema to Port Moresby are operated by MBA and cost about K250 one-way. The journey to Port Moresby takes 5-6 hours and costs K20. The new sealed Trans-Island Highway stops abrubtly at Bereina and becomes the unsealed bone-shaker Hiritano Highway. Unfortunately, this section of highway is notorious for highway robberies. Luckily, the highway is sealed from Gully Ridge onwards and is a pleasant trip. Most PMVs stop at Erima (near the Airport) and Gerehu where urban PMVs and taxis can be caught to other city destinations.

Other scientists intending to visit the Ivimka Research Station and the Lakekamu Basin can contact FPCD or CI-PNG for more information. At FPCD contact Katherine Yuave, Tom Pringel or Stuart Serawe phone: (675) 325-8470, fax: (675) 325-2670, email: fpcd@datec.com.pg. At CI-PNG contact Banak Gamui phone: (675) 323-1532, fax: (675) 325- 4234. Brochures and tourist guides are available and can be obtained from FPCD.


---
Maps of the Bulldog Track
Location Map of the Bulldog Track
Bulldog Track 1:250,000

1:100,000 topographic maps of the Bulldog Track (accurate as of 2001)
Wau to Edie Creek | Edie Creek to Hidden Valley | Hidden Valley to Ecclestone Saddle | Ecclestone Saddle to Yanina | Yanina to Anandea | Anandea to Tekadu | Tekadu to Gulf Province boundary | Gulf Province boundary to Niukeva | Niukeva to Okavai | Okavai to Urulau | Urulau to Lakekamu Bridge
---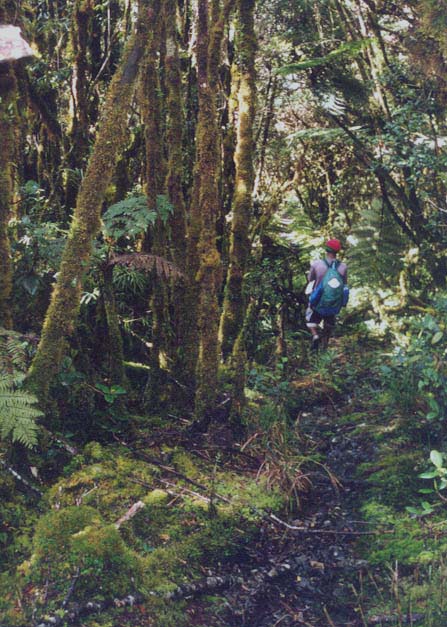 3000m Moss Forest
Behind Naiko (The devil's mountain)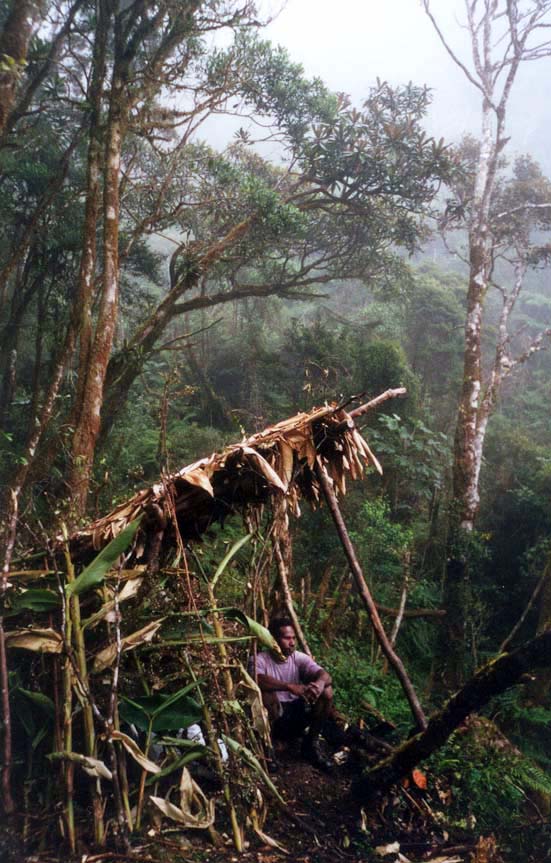 Bush Shelter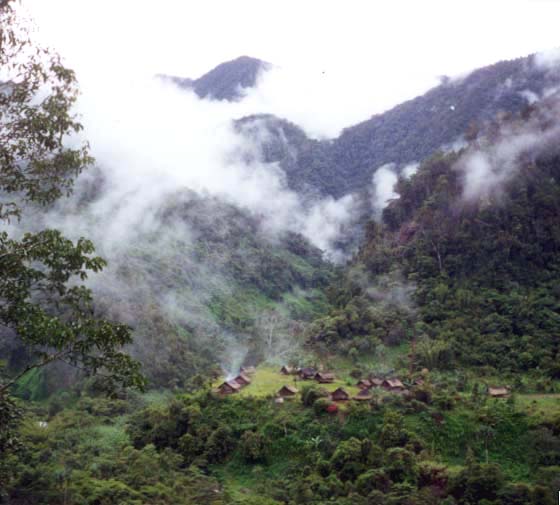 Yanina Village
The first village in the Upper Eloa Gorge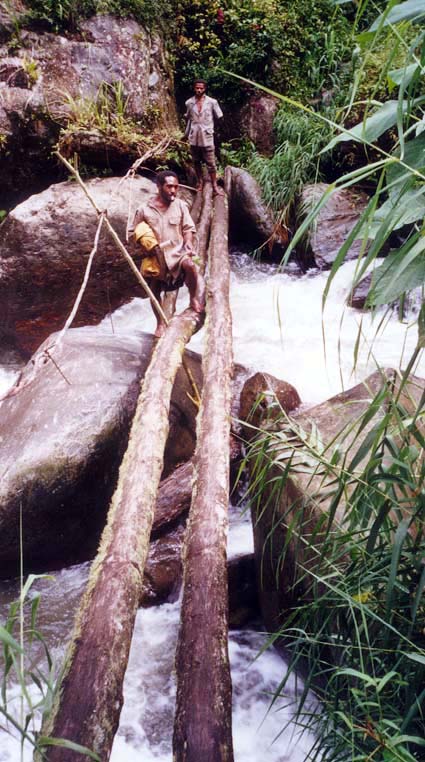 Log crossing
Upper Eloa River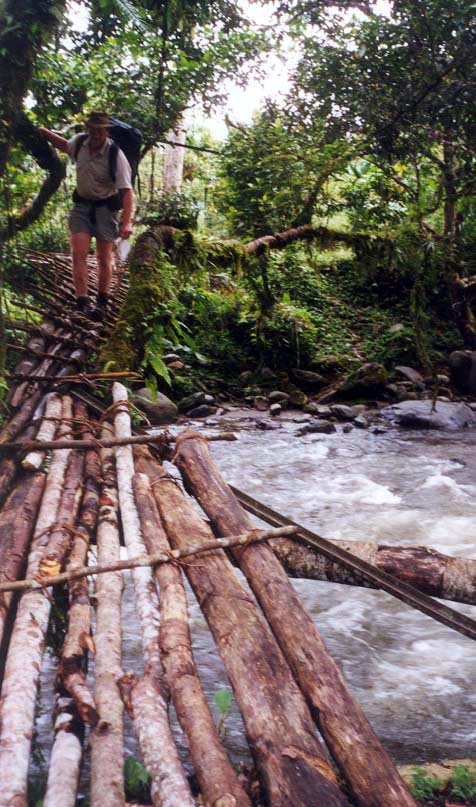 Dodgy crossing
below Anandea, Middle Eloa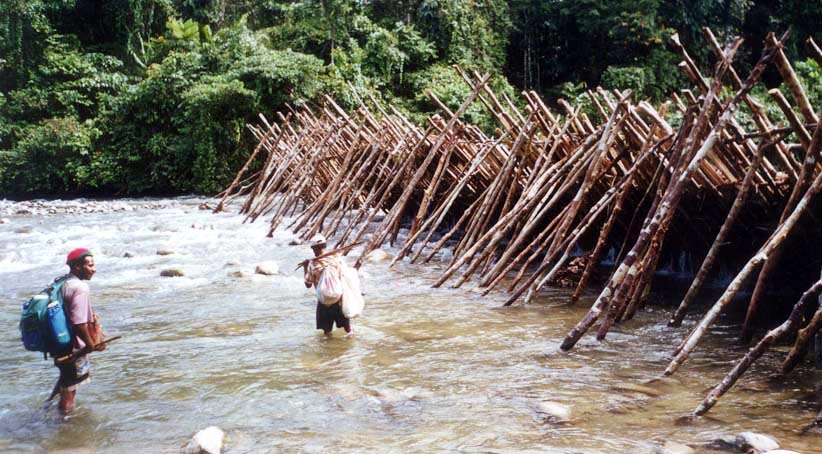 Fishing trap
Lower Eloa River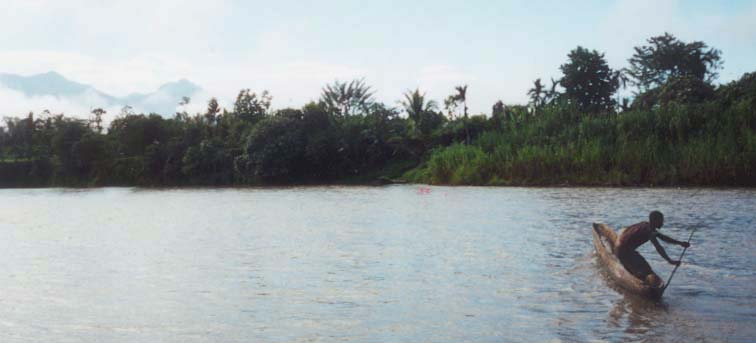 Tiveri River, Niukeva
Navigating the Tiveri and Avi Avi River
Makeshift raft
---
Other Useful links
Papua New Guinea Tourism & Business Directory
Kokoda Trail Trekking
---
Last updated:
16th January 2006
Return to Gaia | Return to homepage
---